There's never been a better time to earn a degree in history. For those pursuing a career as a history professor, the job market has become somewhat competitive over the past few years, but salaries have greatly increased. With a Ph.D., you are much more likely to secure a position as a history professor. In this role, you'll make close to $75,000 a year. As you progress in your career, there's a good chance you can earn up to $168,000.
Check out the helpful chart below to see the various industries history majors work in.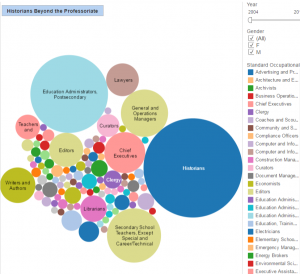 One of the neatest aspects about earning a history degree is you are surrounded by the very topic you are studying. Whether it be walking to the grocery store or visiting a national park, history envelops everything we do. For those of us with a passion for history, we see the beauty in everything and we have a keen eye for watching history as it takes place.
You can even learn about history as you're taking a morning jog. Throw on a pair of earbuds and use your phone to listen to history podcasts.
What Are History Podcasts?
Podcasts are disseminated across a variety of history websites. They are often published on the internet during a live publication, allowing you to listen to them as they are actually taking place. Most of them are also recorded, allowing you to come back at a later time and listen if you prefer.
You can also download the majority of podcasts, giving you the ability to listen to them offline. This is particularly advantageous if you don't have a good internet connection at your house or while going on your morning jog. You can download the podcast to your phone and then play it offline with no need for a good internet signal.
One of the first things you will notice about podcasts is that they are very similar to radio programs. Instead of using radio frequency to distribute the audio, though, the publisher uses the internet.
Audio storytelling has greatly increased in popularity over the past few years. According to a report published by Edison Research, 30% of respondents states they had listened to a podcast before, and a surprising 15% said they had listened to at least one with the prior 30 days. The same report revealed a mind-boggling 64% of respondents between the ages of 12 to 24 had listened to online radio.
We've gone from a time of sitting next to the fire cuddled up in a blanket and reading a 500-page history book to laying on the couch with our eyes closed listening to podcasts. We've also become accustomed to listening to podcasts as we travel from one destination to the next. Whether it be a quick trip to the local gym or a cross-country road trip to see grandma, we can stream podcasts through our car's audio and listen to interesting information the entire way.
Podcasts are captivating. They take us to a different world and have an added sense of emotion because we get to hear the words instead of just reading them like we do when we read a book.
History of Podcasts
Here's an overview of the history of podcasting.
Podcasting hasn't been around for all that long. It was invented back in 2004 by Dave Winer and Adam Curry. There has been much debate over which guy actually started it, but as for now, both are credited with being the inventors of podcasting.
Ben Hammersley was the first person to ever use the word podcasting. He came up with it and it was first mentioned in a newspaper article featured in The Guardian.
The first podcast service provider was Liberated Syndication.
Curry and Ron Bloom ended up creating a very popular podcast show and the phrase "Quit your day job" started being used.
In April of 2005, Leo Laporte published the very first podcast episode. The show was called This Week in Tech. In the very same week, the show won the first People's Choice Award at the Podcast Awards.
It was also in 2005 that the first book was published on podcasting. It was titled Do-it-yourself Guide, and it was authored by Todd Cochrane.
In June of 2005, podcasting had really caught on and Apple iTunes 4.9 started providing native support for podcasts.
George W. Bush became the first president ever to feature his weekly address on a podcast.
In October 2005, Yahoo launched on a search feature enabling internet users to search for various podcasts. The search feature allowed people to not only listen to podcasts but to subscribe to them as well.
It wasn't until December of 2005 that the word podcast became a word in the dictionary.
In 2007, a Guinness World Record was set by Ricky Gervais. His podcast episodes were downloaded 261,670 times in the first month of being released.
In 2008, 38% of people were aware of the concept of podcasting. This increased to 43% the very next year.
In 2011, another Guinness World Record was set by Adam Carolla. His podcast received 59,574,843 downloads between March of 2009 to March of 2011.
In 2013, Apple announced there were 1 billion podcast subscribers.
How to Listen to History Podcasts
There are numerous ways to listen to podcasts. For starters, you can listen to them straight from a desktop computer. You can either go online and listen to them or if you prefer, you can sync your phone to the computer and stream through the computer's speaker. iTunes and gPodder are two desktop platforms that are excellent for accessing podcasts on your computer.
You can also listen to podcasts straight through a web browser. Listening to a history podcast this way is especially advantageous if you tend to move from one device to another. Do keep in mind, however, that when streaming through a web browser, you're going to consume large amounts of data. If your mobile or home internet has some type of limit, you'll want to keep an on it to make sure you aren't racking up a huge data bill for exceeding your data cap.  ShortOrange and Player.FM are two great sources for listening to history podcasts through your web browser.
If you want to listen to podcasts on your phone, you'll have a ton of options to choose from. Overcast is a great source for listening to podcasts on an iOS phone, while Pocket Casts is ideal for Android devices.
Educational Benefits of Listening to History Podcasts
Listening to podcasts will, of course, improve your listening skills, which is of immense value no matter the type of history degree you're earning. A large number of universities encourage the use of podcasts for educational purposes.
When you earn a history degree, some of your assignments may even be directly related to listening to a history podcast and then writing a summary. Those incorporating podcasts into their teaching techniques have reported positive results. It's been said that podcasts enhance the learning experience and engage students better than most other types of educational material. Here's a look at the educational benefits of listening to history podcasts.
Massive Accessibility
One of the greatest advantages of listening to podcasts is their massive accessibility. Almost every smartphone comes with some type of compatible podcast subscription app, with Android and iOS phones providing access to numerous ones. The iPhone app even comes with a pre-downloaded podcast subscription app. Downloading the apps on your phone gives you the ability to listen to podcasts on the go.
Once you have subscribed to a podcast, you don't have to check back every so often to see if new audio has been added. You'll receive helpful alerts each time a new audio file has been uploaded. You can adjust these alerts to accommodate your lifestyle. For example, if you want daily or weekly podcast updates, you can set it this way.
Great Way to Grasp the Attention of Students
Podcasts garner the attention of students better than video and reading. Teachers often find it difficult to get students to sit down and read a book for 30+ minutes. The same applies to watch a video. With podcasts, though, students can listen to them on the go. They can be doing several other things while listening to them. Studies show video content struggles to garner the attention of viewers for any longer than two to three minutes. Podcast statistics are much different. They tend to grab the attention of listeners for an hour or longer.
Listening to Student-Created Content
Another advantage of listening to history podcasts is because many of them have been created by other students. This provides a great avenue for history students to share their knowledge with one another. You can even create your own podcast if you want to. Some of your teachers may require you to create your own podcast. The audio featured in student-created podcasts makes for great class discussions. They are especially beneficial for presentation purposes, particularly to the online community of students.
Podcast Lecture Review
You can always create your own podcasts out of the lectures you receive from teachers. You'll be able to use them again and again throughout your studies as you earn a history degree. Whether you're preparing for an exam or creating a presentation on the material you've learned from the teacher, the recorded audio that you download as a podcast can be a valuable resource. For online students, recording lectures make it much simpler to complete your coursework according to a schedule that complements your lifestyle.
Best History Podcasts to Listen To
A History of the World in 100 Objects
Stuff You Missed in History Class
1001 Heroes, Legends, Histories, & Mysteries
Conclusion
There are many ways to earn a history degree. You can earn this credential completely online, on campus, or through a hybrid program, which combines online learning with on-campus courses. You'll have a wide variety of areas of specialization to choose from, like democracy and politics, Civil War, dictatorship, American history, Russian Studies, and lawmaking just to name a few.
If you have a passion for history, no matter the type of degree you choose to earn, make sure to integrate listening to podcasts into your studies. From enhanced learning to easy accessibility, history podcasts are an excellent educational resource.