Earning a degree in history allows you to build a career in just about any industry of your choice! It's becoming a highly-preferred degree among students going to college.
According to Payscale, the average annual salary for those with a bachelor's degree in a history-related field is around $60,000.
Average Annual Salaries For Those With a Bachelor of Arts in a History-Related Field source
Operations manager: $60,889
Paralegal: $44,855
High school teacher: $49,022
Attorney: $86,901
Project manager: $66,014
Program coordinator for non-profit: $40,464
Marketing manager: $65,761
Key Stats for History Degree Earners (Bachelor's Degree)
46% of people earning a bachelor's degree in history are women. 54% are men.
There's a high rate of job satisfaction among those holding a history degree, with four out of five saying they are satisfied with their careers.
Approximately 4% of those using their history degrees have been in the field for less than a year. 24% of them have at least five to nine years of experience, while 10% have 20 years or more.
Three of the most popular cities to use a history degree are Chicago, Seattle, and San Francisco.
Three of the most popular companies to work for are State Farm Insurance, Booz, Allen, and Hamilton, and Bank of America.
Key Stats for History Degree Earners (Master's Degree)
Master's degrees are usually required for those pursuing a career in the academic, museum, and archival setting fields.
Well-suited for those who possess distinguished writing and social sciences skills.
Projected job growth for those with a master's degree in a history-related field is between 7% to 8%.
Average salary is between $53,880 and $56,990.
Common Career Options for Those With a Degree in History
There's a lot of negativity surrounding the choice of earning a history degree. Many people view them as useless credentials. When compared to the national median salary, the mid-career median salary for those with a degree in history is about $25,000 higher. This statistic alone proves a history degree isn't useless.
The key to earning and using a history degree is knowing where to put it to use. This type of degree opens a door to multiple career options and gives you the chance to pick a profession that complements your passions and preferences.
If you want to use your degree in history to pursue a career in the academic field, you will benefit from continuing your education and earning a master's degree.
As a historian with a master's degree, you will earn around $55,110 a year. The job outlook for this career is 2%. You can find employment as a historian in the private or public sector. To excel in this line of work, you'll need to possess strong analytical skills. It will also be helpful if you have a passion for teaching and traveling.
History professors tend to make about $75,430 a year. Librarians earn around $57,680 a year, and museum curators tend to have a salary of close to $50,000 a year.
High School History Teacher: $59,170 a year
Can't get enough of high school? Why not go back and be a history teacher? This career choice requires much more than a passion for history. You'll need patience and a yearning to help others learn as well.
High school is where students typically start learning about specific areas of history, giving you the chance to broaden their knowledge on certain events that truly shaped cultures across the world. In addition to a history degree, you'll need a certificate to teach to become a high school history teacher.
A historian and a lawyer have careers that are very similar to one another: they both use historical data to carry out debates and try to convince their audiences that their views on a particular subject are correct. Many history majors continue their education by going to law school. You will need to boast enhanced analytical and problem-solving skills to excel in this industry.
As you grow in your career as an attorney, there's a chance you'll want to start your own law firm. Depending on your level of success, you may find the need to hire or partner with additional lawyers to help tackle all of the cases you take on.
If you don't want to become a lawyer with your history degree, you can always skip out on law school and use your degree to pursue the administrative side of working in a law firm as a paralegal.
Paralegal/Legal Assistant: $50,410 a year
Paralegals have long been known to make good money. Median salaries are around $48,000, but as you progress in your career, it's possible to make upward of $77,000 a year.
Finding a law firm that you truly enjoy working for is key to establishing job satisfaction as a paralegal. Once you find a firm that you want to stick with, it's usually fairly easy to earn a raise every few years.
Lawyers need legal assistants by their side who help them pursue the cases they are taking. These lawyers are willing to pay a pretty penny to their legal assistants, especially the ones who choose to stay aboard on a long-term basis instead of taking their skills to other law firms.
As a paralegal, your job will consist of filing paperwork, conducting research, gathering facts, determining how laws and regulations are specific to each case, writing legal articles, and more.
A lot of people forget they can use a history degree to become a park ranger. This occupation is especially well-suited for those who enjoy being outdoors. Recreational parks across the nation have a need for park rangers, particularly those who have an extensive amount of knowledge of history.
Park rangers are sometimes tasked with giving tours of the areas they are responsible for patrolling. Being able to provide neat and interesting information during these tours is an excellent way to put one's history degree to use in this line of work.
Common duties of a park ranger include: patrolling designated outdoor areas, making sure park guests and campers follow park rules, and ensuring no one is disturbing the park's natural environment and wildlife. In some instances, because park rangers have such vast knowledge of the areas they are working in, it is not uncommon for them to be called upon to perform search and rescue missions.
Did you know you don't have to go out into the real world to put your history degree to use? That's right, you can become a freelance writer and editor, allowing you to work remotely from the comfort of your own home. Using your expansive knowledge of history, you can write articles, blog posts, commentaries, and more on any aspect of history.
There are a ton of sites that connect freelance writers with clients who are looking for history-related content, like WriterAccess, Blogmutt, and Copypress. You can make a very good living at being a freelance writer and editor, with average annual salaries typically being above $50,000 for those who work on a full-time basis.
Advertising is all about persuasion. You are convincing your target market that they should purchase a certain product or service. The marketing and advertising industries have been greatly revolutionized by the internet.
We are in an era where content marketing is at the core of any successful advertising and marketing campaign. With a degree in history, you will have high-quality writing skills, and you can put them to use as a marketer who specializes in online marketing. You can even use your degree in history to become an advertising manager for a museum or non-profit entity.
Land a Career Making $100,000+ with a History Degree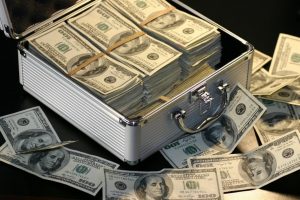 Stuck on the idea of putting your history degree to use by landing a job that makes more than $100,000 a year? If so, you'll have several career options to choose from.
For starters, you can become a public relations manager with a history degree. You'll need at least a bachelor's degree, distinguished communication and writing skills, and your interpersonal capabilities will need to be perfected. As a public relations manager, you will be tasked with conducting market research, organizing and analyzing data, and coordinating events.
Your history degree will prove to be of the utmost value as a public relations manager because you will have a keen sense as to what has worked in the past and what hasn't. You can use your problem-solving skills to boost your employer's image and reputation.
Using a history degree to become a political scientist is another way to earn more than $100,000 a year. The job growth rate for this occupation through the year 2022 is 21%, making it a very in-demand career.
As a political scientist, you will research and analyze data and create reports that showcase your research findings. The majority of your work will focus on government-related topics, with the goal being to create policies that benefit society as a whole.
One of the best aspects of using a history degree to become a political scientist is you don't have to have an advanced degree. An undergraduate degree will land you a well-paying entry level position. If you're seeking a career as a political scientist that positions you to be among the top earners, you'll need to continue your education and earn a master's or doctorate degree. Common places of employment for political scientists include:
Think tanks
Lobbying groups
Nonprofit entities
Universities
Labor organizations
As a postsecondary education administrator, you'll likely earn close to $102,000 a year. There is a high demand for postsecondary education administrators, with a growth rate of 15% through the year 2022. You'll need to earn a master's degree in history and education to land this type of job. An interesting aspect of this career is you can usually land employment with an undergraduate degree and work while pursuing your advanced credential. This puts you in a prime position to gain valuable experience that you can use later on in your career.
Putting Your History Degree to Use With Networking Resources
Expanding your career opportunities with a history degree starts with networking. Fortunately, there are tons of resources you can use.
The American Library Association has its own website that features networking resources, like eLearning programs as well as scholarship opportunities. If you're seeking a career as a librarian, The American Library Association is an organization you will definitely want to join.
SchoolSpring is a free online resource that is designed specifically to help those seeking a career in the education industry. If you're wanting to use your history degree to become a teacher, this resource will help you network with professionals that can help you pinpoint open positions near you.
The Association of Writers and Writing Programs is an excellent organization to join if you want to use your history degree to become a writer. You'll gain valuable access to a community of writers who can point you in the right direction to jumpstart your career as a writer.
Go Abroad History Internships is an association focused solely on helping you use your history degree to land a job outside of the United States. There are thousands of career opportunities all across the globe. This association will help you find them.
The World History Association gives you access to a network of historians, conference dates, event dates, and more. No matter where you're located, this resource connects you with valuable employment and networking opportunities that will help you put your history degree to use.
As a student, the National Council on Public History can connect you with internship opportunities. Taking part in an internship while you are earning a history degree (everythign you need to know about earning a history degree link) allows you to gain valuable work experience. It also shines a favorable light on you that employers will highly prefer when you go to land a job after graduation. You may even find an internship opportunity turns into a full-time position once the internship has ended.
The Takeaway
The internet is one of your most valuable resources for landing a job with your history degree. You can research career opportunities, take tests to see which jobs are best suited for your career endeavors, and you can also network with other professionals who help you pinpoint open positions.
Earning a degree in history will take about two to four years if you are pursuing an undergraduate degree. An advanced degree will take anywhere from five to eight years. If you're wanting to land a job that requires a doctorate degree, you can plan on spending about 10+ years in school.
A degree in history is an excellent way to land a career making good money.